THE COLLECTION
14 sections to discover infinite stories within History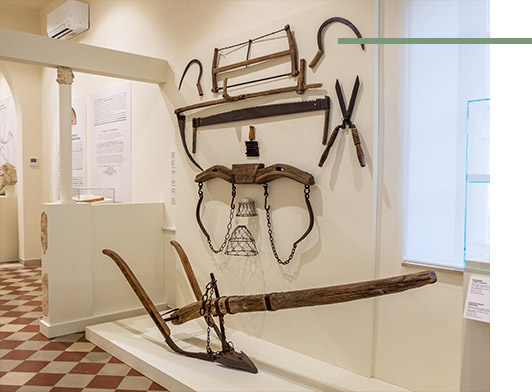 "This exhibition area was born from the need to give full value to the vast material and intangible historical patrimony of this Benedictine Abbey, which is testimony to the countless events that have taken place in this site."
The ethnographic materials, archaeological finds and historical and artistic evidence, which have always been "scattered" within the monastic complex, are now placed in a well-defined gallery, with the aim of exhibiting and narrating the different historical phases, from the Roman age to modern times. The Abbey, in addition to playing an important religious and cultural role, was, and in part still is, a centre for the promotion and rural development of a vast territory.
The museum itinerary, located on the first floor of the south wing of the cloister, is thus divided into 14 sections, each illustrating a precise theme, following a chronological flow through the centuries.
The crucial moments of this very long narration, given through the reading of those finds that have come down to us, will lead you to discover infinite stories within History.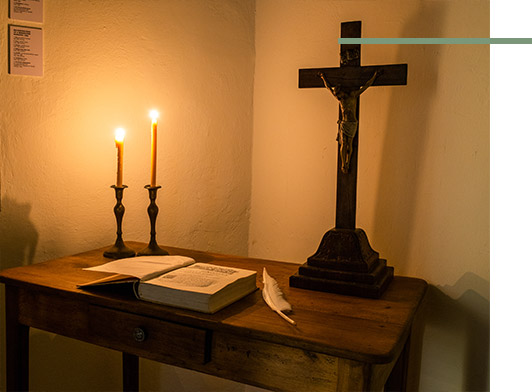 "In this small cell, in which the proportions of the walls and the size of the window of the ancient 15th-century monastery have been preserved, a monastic bedroom has been rebuilt."
The small size, the essential furnishings and the small window are a reflection of the hard cenobitic life of the Benedictine monks. In addition to the strict alternation of hours of work and prayer, even at night ("Ora et labora"), the days of the monks were strictly subordinate to the Rule of St. Benedict, a set of 73 chapters based on which life in the monastery was organized.
The Rule was meant to be an instrument to direct the monk to the service of God, curbing temptations and vices such as idleness, envy, pride, but at the same time encouraging him to take full advantage of the talents entrusted to him by God, and to put them at the service of the community.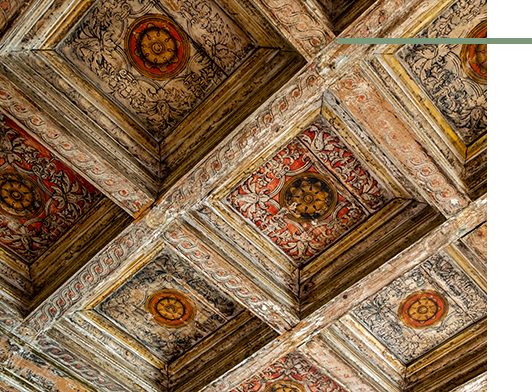 "This room is certainly the most precious of the entire Abbey and is worthy of a Renaissance prince."

The Abbot, as absolute lord of the monastery, exercised total hegemony in the social, military, cultural and economic spheres, testifying to the great social prestige of the abbatial office.
The wooden coffered ceiling and the upper part of the walls are decorated with ornamental elements in Mantegna's style, a clear sign of the influence of the humanistic culture of the Mantuan 15th century deriving from the abbey's affiliation to the powerful monastery of Polirone (San Benedetto Po – Mantua).

Funders of the project: